Sophie Jones, Communications and Learning Manager at Building with Nature, shows how planners can translate COP27 and COP15 commitments into practical action at a local level – by harnessing Green Infrastructure.
The biodiversity and climate crises gripped the headlines at the end of 2022 with COP27 and COP15 providing, for everyone working to improve outcomes for people and nature, a significantly more nail-biting finish than the World Cup final. The stakes were high, as António Guterres, UN secretary general, emphasised: "Without nature, we are nothing. Nature is our life-support system". Last-minute negotiations at the end of COP15 resulted in the signing of The Global Biodiversity Framework, an historic deal to halt biodiversity loss by 2030, a treaty for nature equivalent to the 2015 Paris Agreement on climate.
Implementation – the role of planners
Whilst the agreements made at COP21 and COP15, for climate and biodiversity respectively, represent huge steps forward globally, the success or failure of these legally binding treaties will be determined in how they are translated into practical action at a local level. The built environment plays a critical role in delivering better outcomes for climate, people and nature, and therefore developers and planners perform a key role in delivering local positive responses to these global emergencies.
Climate and nature are inextricably entwined, and yet as work is undertaken to implement solutions to both crises, we are seeing climate and nature targets being siloed and objectives diverging or being seen as potentially conflicting. To hold objectives for both in the same space and avoid this risk of divergence, developers and planners need to take a holistic approach that recognises the interactions between climate and nature and considers them together.
What is high-quality green infrastructure?
Put simply, "Green infrastructure is a network of multi-functional green space and other green features, urban and rural, which can deliver quality of life and environmental benefits. Green infrastructure is not simply an alternative description for conventional open space. It includes parks, open spaces, playing fields, woodlands – and street trees, allotments, private gardens, green roofs and walls, sustainable drainage systems (SuDS) and soils. It includes rivers, streams, canals and other water bodies, sometimes called 'blue infrastructure".
How does high-quality green infrastructure help?
High-quality green infrastructure (GI) offers a nature-led design approach that optimises the synergies between climate and nature objectives, delivering on international goals at a neighbourhood and landscape-scale, with practical and impactful nature-based solutions. By focusing on delivering high-quality GI, local authorities are able to develop a cohesive local response delivering biodiversity gains, nature recovery and climate resilient development, whilst also delivering equity and access, social value and social capital.
Viewed from this perspective, high-quality GI is increasingly being recognised by local councils as critical infrastructure. In December 2022 the Land Use in England Committee report echoed this view, recommending "more must be done locally to increase the prevalence of green infrastructure and to make the most of the opportunities it offers. In particular, as well as supporting its protective aspects, there is unfulfilled potential for green infrastructure to deliver multifunctional land use benefits."
Building with Nature, the UK's first GI benchmark, provides policy-makers and developers with a full evidence-based definition of high-quality GI and how to deliver it. The Building with Nature Standards Framework has been developed and is maintained by expert practitioners and policy makers, academia and end users, and has now been tried and tested on multiple schemes and planning policy documents throughout the UK. Through focussing on the themes of Wellbeing, Water and Wildlife, as well as the Core elements of good GI, the Standards guide users in a context-led, holistic approach to placemaking, enabling the delivery of high-quality places for people and wildlife.
Cornwall Council – a case study
Cornwall Council recognised the strategic importance of GI in delivering biodiversity gains and climate resilient communities, and started working with Building with Nature in 2018 to support both delivery and policy-making around high-quality GI. The following case studies provide examples of how the Council have integrated the Building with Nature Standards into both policy and development across the county.
These case studies demonstrate how local authorities can utilise GI to deliver on their climate and nature objectives. They illustrate how – through approaching GI strategically, with a clear definition of 'what good looks like', utilising emerging mapping tools, and ensuring nature-led decision making is included early on in the planning process – the built environment can support the delivery of the Nature Recovery Network, biodiversity gains and climate positive development.
Whilst the planning system is currently going through some major changes, and it is yet unclear how the forthcoming Levelling Up Bill will prioritise health and well-being, climate and nature positive actions, there are still many opportunities for strengthening GI policies locally and placing nature at the heart of decision-making. The case studies from Cornwall demonstrate how local authorities can create policies that offer meaningful benefits to people and nature through the planning system by requiring and delivering high-quality green infrastructure in placemaking.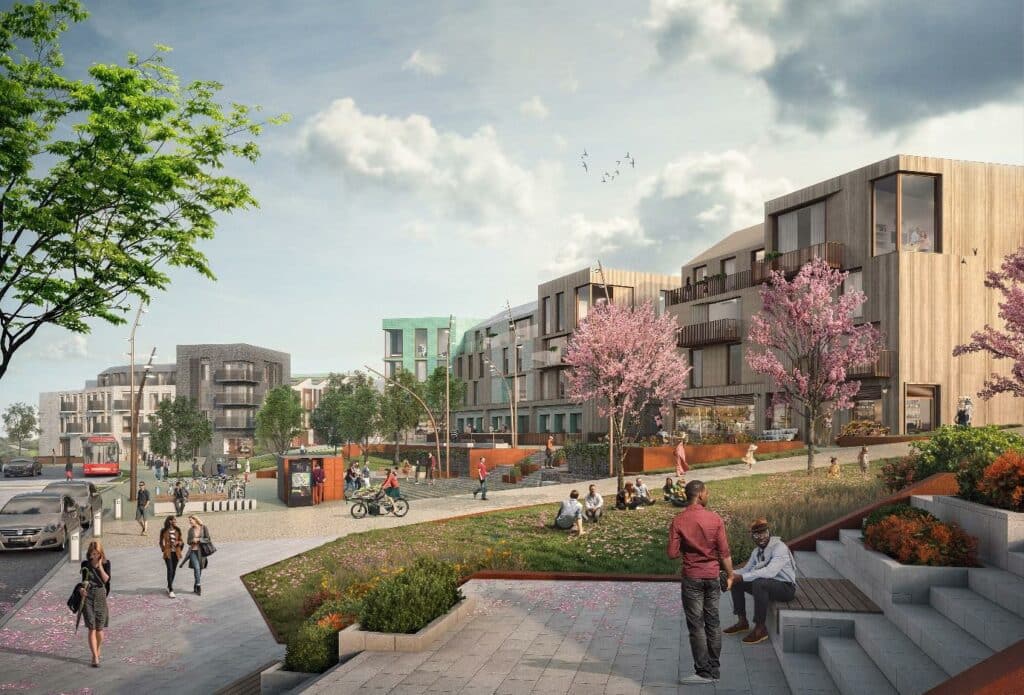 In conclusion
The stakes are still high for climate and nature, the target to keep global warming under 1.5°c may have already been missed and the UK is one of the most nature depleted countries in the world; with more than one in seven native species facing extinction and more than 40% of species in decline. However, there is cause to believe that these trends can still be reversed. Over 300 local councils across the UK have already declared a climate emergency and many councils are already taking positive steps to deliver Local Nature Recovery. This year will see the launch of additional nature-positive tools to support planners in England, with the introduction of Biodiversity Net Gain and the launch of Natural England's Green Infrastructure Framework. What is now needed is for local authorities and developers to work together to consistently and effectively deliver high-quality GI in all development.
---
Keen to learn more about Green Infrastructure?
Sophie Jones is Communications and Learning Manager at Building with Nature and led the development of a GI training programme for local authorities with funding from the Esmee Fairbairn Foundation in 2021.
The views expressed here do not represent TCPA policy.
Cover image credit: AHR Architects on behalf of Cornwall Council and Arcadis.