Public sector planners may have noticed a good supply of surveys from different organisations in recent months, seeking views on skills, capacity and training needs on a range of planning issues. For stretched planning authority teams, the TCPA are very aware that the time to complete these surveys is a big ask, but being guilty of such activity, we value the input from planning officers to inform our work enormously.
Our latest survey on skills ran in late 2022, in partnership with the Environment Agency. Its aim was to identify training needs in relation to planning for climate change and flood risk. This blog shares some of the findings and (importantly), how that input will shape our training partnership with the Environment Agency to help address some of the priorities that officers shared with us.
Through delivery of training and resources, our work with the Environment Agency aims to improve understanding of flood and coastal erosion risk management, and sustainable and climate resilient development and infrastructure.
The purpose of the survey was to shape this programme over the coming year, so we could better understand the priorities and challenges for developing skills and capabilities.
A total of 148 participants completed the survey, representing 102 different authorities.
The survey results make a clear case for supporting further training for local authority planning and flood risk officers, with 1 in 4 respondents feeling they did not have the skills and expertise to account for flood risk and the impacts of climate change in planning decisions. In addition, over a third of respondents felt their authority lacked the capacity and resources to take planning decisions that account for flood risk and the impacts of climate change on flood risk.
When flood risk topics were further broken down, the results varied but very few respondents reported their current level of knowledge as 'Excellent' or 'Very good' (as shown in the graph below).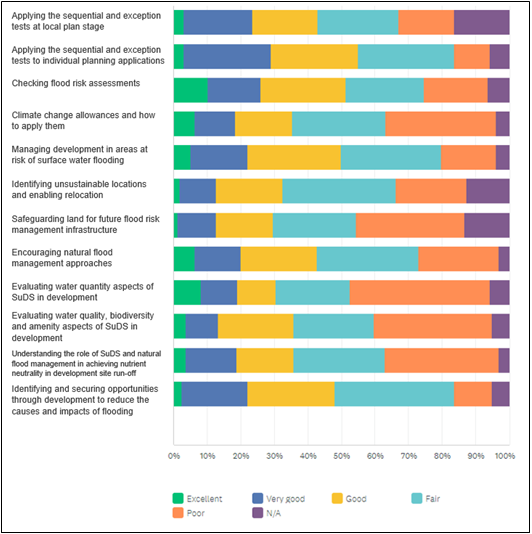 Figure 1: responses to the question How would you rate your current level of knowledge of the following flood risk management topics and activities?
The survey indicated that a range of barriers are impacting authorities' ability to implement planning policies for flood risk. 86% of respondents reported that insufficient staff capacity and resources were impacting their authority's ability to implement planning policies on flood risk and climate change. Only 2% felt skills and capacity was not an issue. Tension with other priorities (such as housing delivery) and lack of access to expertise were other common challenges.
Despite these barriers, the survey results demonstrate a strong desire to access more training and improve expertise. Respondents tended to prioritise topics that form a key part of their role including application of the sequential and exceptions tests, checking flood risk assessments and managing development in areas at risk of surface water flooding. There was also strong interest to improve understanding of topics that are key to climate resilience including climate change allowances, natural flood management and SuDS evaluation1.
This spring, the TCPA and EA will deliver two pilot training sessions with local authorities, focusing on the priority areas of training need identified by the survey respondents. These sessions will then be refined and rolled out to a much wider audience over the next 12 months.
Whilst this project cannot address the root causes of the capacity crisis facing authority planning teams, access to high quality CPD on flood risk and climate resilience is vital. This training programme will reach a wide audience and help keep knowledge up to date, so authorities can plan effectively and make confident decisions on flood and coastal risk issues.
This project will run for two years, and continue to be informed by the experiences and priorities of planning officers across England. If you would like to share your views on this topic, contact celia.davis@tcpa.org.uk.