Working with communities on influencing planning decisions
Planning Aid for London (PAL) is London's advice and training service on planning. Supporting communities and people who cannot afford professional advice, PAL works to ensure every Londoner can take part in decisions about planning in their community.
Do you have questions about planning?
Planning Aid for London has created easy-to-understand leaflets and videos that explain how planning works. The planning library signposts other resources you can consult. Find out more on PAL's website.
If you or your group are based in London, you can also submit a planning enquiry, using the contact form.
Want to give back?
Are you a planner or other built environment practitioner looking for volunteering opportunities and to improve your community engagement skills? Planning Aid for London works with volunteers who share their skills and expertise with the public. You don't have to be based in London to volunteer. Read more about what volunteers do and how you can apply below.
To learn more about the work of PAL, connect below:
The TCPA has partnered with PAL to expand its community training and advice service and create new resources explaining the system. This helps people participating in decision-making about planning, especially those living in areas of London with high levels of development. The partnership is generously supported by Trust for London.
---
This project is supported by: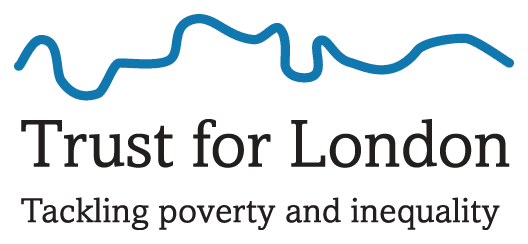 ---
Ensuring everybody can participate in planning decisions:
Understanding the planning process and knowing how to get involved is challenging for most people. It's even harder for communities that have been overlooked and lack the means to get involved. To ensure PAL's offer meets the diverse needs for planning support of London's communities, the TCPA hosts a steering group which advises PAL. Its members include:
---